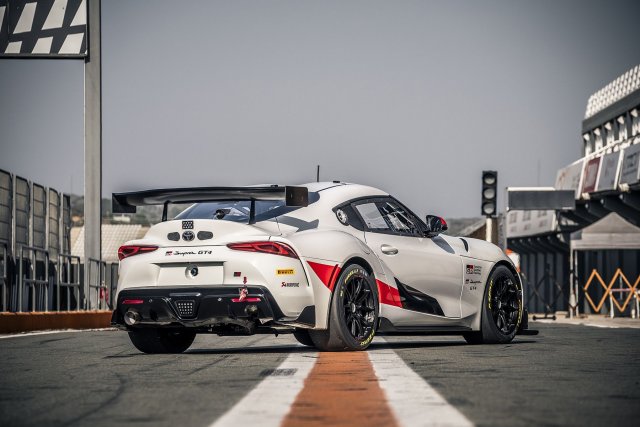 https://www.caranddriver.com/news/a29626339/toyota-gr-supra-gt4-racer-price-spec-on-sale-date/
Toyota Gazoo Racing (GR) has announced pricing, release dates, and specs for the track-ready GR Supra GT4.
The 2976-pound racer comes with a 430-hp version of the Supra's BMW-sourced inline-six, plus a roll cage, racing seats, and a ton of aero upgrades.
Pricing will start at around $194,000, and it will be available in the U.S. in August 2020.
We knew that Toyota planned to eventually build and sell a Supra GT4 to privateer racers when the concept debuted ahead of this year's Geneva auto show. Now, the company has confirmed an on-sale date and released some specs and pricing.
Toyota Motorsport was able to get the BMW-sourced turbocharged 3.0-liter inline-six engine to produce 430 horsepower for the GT4. The six-cylinder is a purebred Supra in that it uses the same single twin-scroll turbocharger, although the GT4 adds on an Akrapovič
exhaust system
, and it is specially tuned to pump out that extra 95 horsepower.
All of that power is sent to the rear wheels through a seven-speed sport automatic transmission with paddle shifters and a mechanical limited-slip differential; the street car uses a ZF eight-speed automatic.
Stopping the 2976-pound racer are six-piston front and four-piston rear brakes. Like the road-legal Supra, it rides on a strut front suspension and a multilink rear suspension. KW dampers are fitted at all four corners, and the GT4 wears a set of Pirelli P Zero racing tires on OZ wheels.
A high-strength roll cage is fitted onto the GT4's lightweight steel body, and there's an FIA-standard racing seat with a six-point harness. The interior also features a carbon-fiber instrument cluster with an 8.0-inch digital display. Standard are motorsport ABS, a data logger, and a fire extinguisher; among the options are an illuminated car number.
Pricing is expected to start at the equivalent of $194,000. Sales are starting in Europe next March. North America will follow in August, and the race-ready Supra will become available in Japan and other parts of Asia in October.